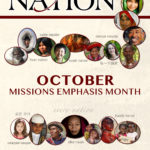 Getting Ready for Missions!
We are excited about October's "Mission Emphasis Month." What a blessing it will be! Don't miss a single Sunday!
Missionaries will share their work & ministry with us. We will hear great preaching and teaching also on the biblical command of missions!
The building is being decorated to encourage us to be committed to the call. Be much in prayer.  Pray that the Lord will stir our hearts for reaching the world!