You're Invited
Looking for a great church for your family? We invite you to consider Community, a place where the Word of God is honored and people are loved and welcomed. CBC is a conservative church that is multi-ethnic and has people from all walks of life. Our goal is to love Jesus and love people.
Browse the site, and plan to come for a visit. You will be glad you did. We would also love to hear from you via the "Contact Us" page, or in person."
We invite you to come and see. If you are looking for a church with biblical preaching, traditional singing, and a loving fellowship, then Community is the place for you.
What to Expect
When you visit CBC, you will be welcomed. If you have children, they may stay with you or they can be directed to a class with other children their age. We also have a well-staffed nursery, and all of our children's workers have passed background checks and are trained for childcare.
During worship, you will be able to enjoy traditional music of the church, and some newer hymns of our day. The preaching will be expositional in nature. That means the preacher will take a passage of Scripture and expound its message in a practical and applicable fashion.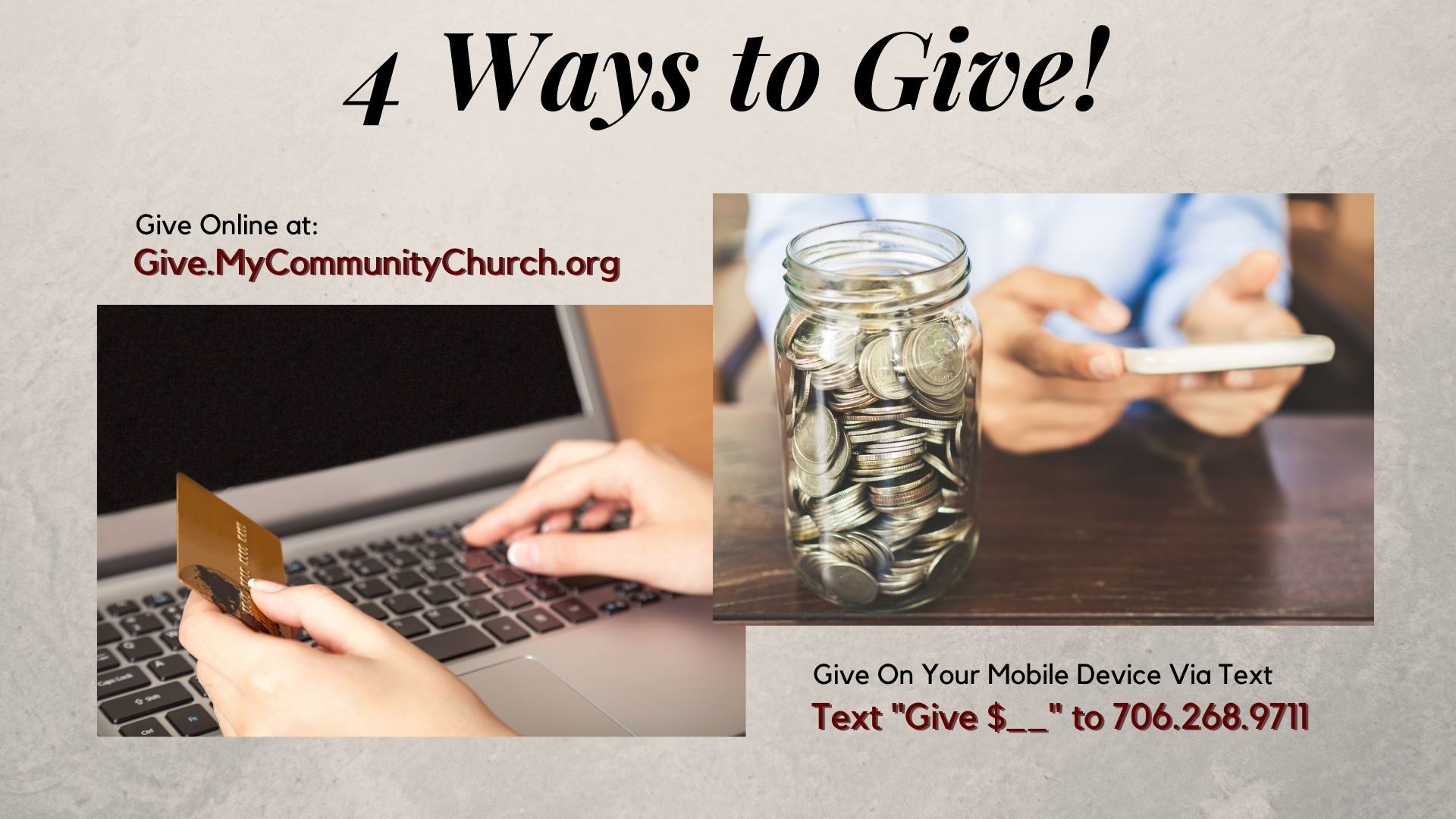 It is our desire to make it easy to give during these days when our services are online only. Of course, the elders of the church encourage us all to be faithful and consistent in our giving. Therefore, we offer the following ways to give:

Mail-in Giving
Mail your check or Money Order to:
Community Baptist Church | P.O. Box 757 | Fortson, GA 31808
Online Giving
Go to: Give.MyCommunityChurch.org and complete the online giving form.
If you choose this method, please consider clicking the "Cover the Processing Fees" box in the form. This will ensure the whole donation is for the church.

Text Giving
You can text your giving. Simply text the word Give with the amount (e.g. Give 100 General, Give 50 missions) to 706-268-9711.

Give via Cash App
If you use Cash App, you can send your donation to: $mycommunitychurch
(There is no fee for using this method. The church will receive the full amount).