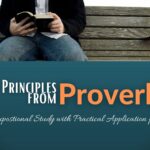 We will begin the study of the Book of Proverbs on Wednesday night, February 24, at 7:00pm (EST).  Each week, we will be examining Life Principles from Proverbs, and will glean over 150 life principles by which to live our day-to-day lives.
Proverbs is one of the most practical living books in the Bible.  Solomon's wisdom is distilled through his pen as he writes the majority of the proverbs contained within the book.  Each proverbs offers eternal wisdom that reveals the heart and character of those who examine them and live them.
Plan on joining us each Wednesday evening for a great time of learning from the Proverbs.  Invite your friends, family, and co-workers to join us online also.  Join us Online at:  Live.MyCommunityChurch.org
Be sure to download the study, fill-in-the-blank, outline from the link below.  Each message will have a new outline added in the links below.
Download the Weekly Outlines Here:  (Click on the outline links below)