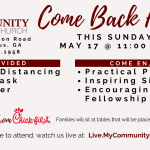 We are thrilled and excited about being about to gather together in-person again!  Sunday, May 17, will be our first in-person service since March 15.  That is TWO MONTHS since we last assembled!  What a blessing this Sunday will be.
Of course, we will be using the recommended Social Distancing Guidelines.  To download a copy of the guidelines, you can click the button below.
We will have all safety protocols in place.  There will be masks available, we will not be shaking hands or hugging, we will not be sitting close to each other, and we will have the offering plate sitting by the sound booth so that you may drop your offering in as you pass by.
All of our members and regular attenders are invited to come on Sunday.  It would help us to ensure that we are having our maxim crowd if you will take just a moment and complete the form on this page.  If you have someone who does not regularly attend, who wants to come, please call first and see if seating space is available.  If you are not coming, please let us know.  We understand if you feel you need to stay at home a little longer.
If you have any questions, please call the church number at 706.322.1958 or either one of the elders.