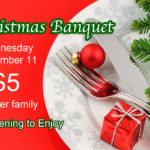 CBC desires to be a blessing to the community that surrounds us, and we would like to invite you to our Christmas Banquet. It will be held on Wednesday evening, December 11, at 6:30pm. We are located at 7909 Fortson Road in north Columbus. We will have some door prizes, Christmas singing, great food, and an encouraging speaker.
The cost is only $5 each or, $10 per family ("family" pricing is for immediate family only).
To order your tickets, you may see Mrs. Wynn at church or fill out the form below on this page.  If you use the form, you will receive an e-mail with instructions for payment and your tickets will be at the door for you at Banquet time.