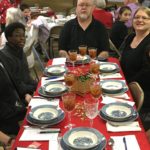 Wow! What a great Christmas Banquet we had on Wednesday night, December 11.  The Fellowship Hall was PACKED.
Special thanks to Jakki Marshall, Francis Mitchell, Cyndee Redmond, Dianna Roberts, Stephanie Slavy, Sheryl Tarvin, and Kathy Wynn for each providing a Christmas themed table with place settings.  Look at the pictures and see the great job that was done!
Thank you also to Francis Mitchell, Donald Wyckoff and Kathy Wynn for making the spaghetti, and to Jakki Marshall for making the Zuppa Tusconna soup.  Thanks to everyone who brought desserts, and drinks.  The whole meal was wonderful!
We had great Christmas singing, gave away many door prizes, and had a great message from Ray Prince, pastor of Berea Baptist in Dahlonega Georgia.  We also had a testimony time, and it was encouraging to see the young folks get involved.  It was a blessing to hear the testimonies of God's grace.
We are truly blessed to have a wonderful family church!