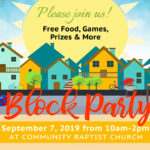 Don't Miss It!
Block Party
Saturday & Sunday, September 7 & 8, will be a great weekend for Community Baptist Church!  On Saturday, we are hosting a community-wide Block Party.  It will begin at 10:00am and end at 2:00pm.  It will be a great four hours of fun, food and excitement!
There will be a Bouncy House, Rides, Food, Popcorn, Cotton Candy and More!  All of it is FREE!  Everyone is invited to come by an meet the new Community Baptist Church family.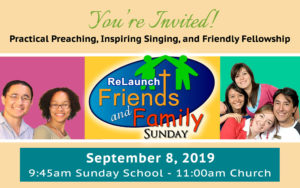 Friends & Family ReLaunch Sunday
On Sunday, we invite everyone to come see what Community Baptist Church is all about.  Come be a part of an exciting relaunch of a merged and new church!
9:00am-9:40am – FREE breakfast (Bacon, eggs, biscuits and MORE)
9:45am – Sunday School (classes for all ages)
11:00am – Worship Service